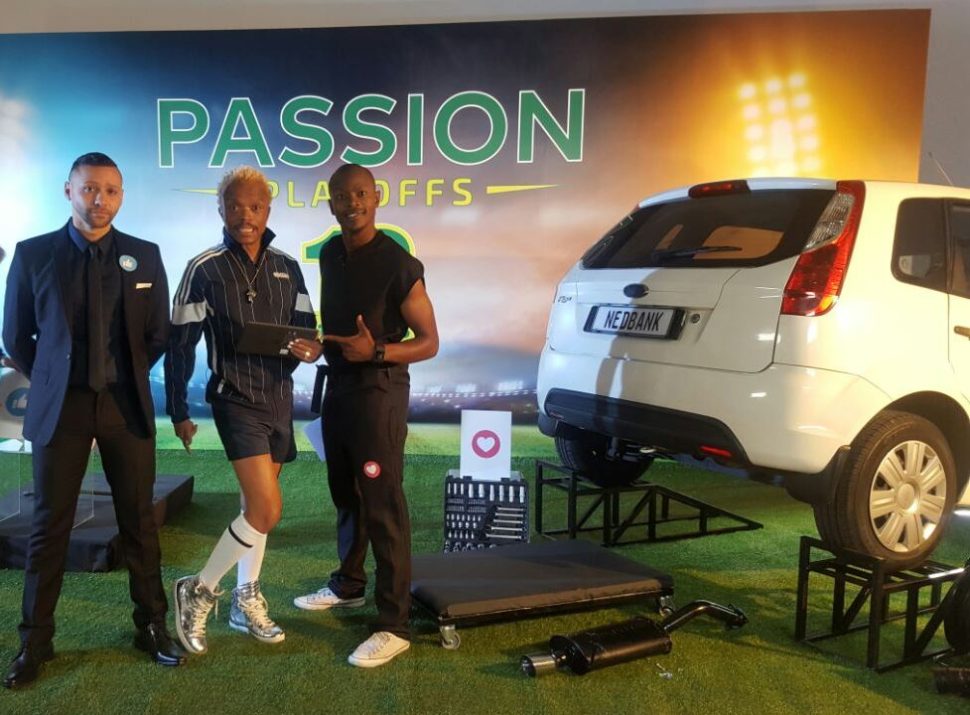 Donovan Goliath and Mihlali Ndamase won the first round of the Nedbank Passion PlayOffs. Please see media release below (and attached) for more details on this challenge.
Passion PlayOffs see the nation's top celebrity experts go head to head on Facebook Live to show what can be achieved when you See Money Differently
What it is that you're most passionate about? Is it a particular type of food or a certain genre of music, getting fit or going the extra mile to make sure you always look your best?
As South African football lovers quench their fervor for soccer during the gripping 2017 Nedbank Cup, Nedbank is turning the spotlight on the other passions which drive and inspire us thanks to an innovative social media campaign, Nedbank Passion PlayOffs.
Dovetailing with the tenth year of Nedbank's sponsorship of SA's biggest soccer knock out contest, Nedbank Passion PlayOffs will see eight celebrity experts go head to head on Facebook Live to show that when you See Money Differently, you can achieve your passions and help contribute to making South Africa better.
"We are a nation of soccer fans – that is undeniable. But we are also passionate about a range of other things like fashion, keeping fit, our cars and finding smart DIY ways to improve the value of our homes.
"That is why, in celebrating Nedbank's ten-year milestone of investing in your passion through the Nedbank Cup, we wanted to go beyond the soccer pitch to highlight the other things that South Africans are passionate about.
"Nedbank Passion Play-Offs encourages everyone to look at what drives them and help them realise that, by taking the time to See Money Differently they can achieve their dreams," said Desmond Osman, Head of Marketing – Middle Market at Nedbank.
Celebrity host Somizi Mhlongo enters the field as referee for this knockout tournament with a difference, which will be played out on Facebook Live simply by going to the Nedbank Facebook Page every Wednesday at 10am between May 31st and June 21st.
Each celebrity expert has been carefully selected based on their devotion to a specific field, with actress, singer and celebrity chef Lucia Mthiyane taking the hat as Food Passion Captain, design impresario David Tlale stitched up as Fashion Passion Captain, DJ Mobi Dixon spinning the title of Music Passion Captain and funnyman Donovan Goliath taking on the mic as Comedy Passion Captain.
Meanwhile celebrity handyman Janez Vermeulen wears the DIY hardhat, Jacob Moshokoa steers Auto, new social media sensation Mihlali Ndamase covers make-up and TV presenter and actress Boity Thulo, the new Nedbank Ke Yona Team Search TV presenter, muscles into fitness as the Exercise Passion Captain.
Taking its cue from the Nedbank Cup matches, the Nedbank Passion PlayOffs kicked off on Wednesday, May 31st with a Live Quarter Final match, which saw the following Passion Captains go head to head in a task related to their passion:
31 May at 10h00 – Jacob Moshokoa (Motoring) vs Donovan Goliath (Comedy)
31 May at 18h00 – Lucia Mthiyane (Food) vs Mihlali Ndamase (Make-up)
Similarly to the Cup, only the winning Passion Captains move on to the next round, the Semi-Finals, with the final two winning celebrity experts going face to face in the Passion Play-Offs finals, which take place on June 21st.
The first round saw motoring expert Jacob Moshokoa battle it out against comedy heavyweight Donovan Goliath in the 1st Passion Playoffs quarterfinal. In the challenge set by referee Somizi, Goliath had to roast Moshokoa, while Moshokoa had to fit a free flow exhaust on a car. Facebook viewers determined who would move on to the next round. Goliath came out on top and moves into the semi-finals with the most likes from his Facebook fans.
In the battle of the beauties, makeup artist Mihlali Ndamase squared off against celebrity chef Lucia Mthiyane in a 10minute challenge, where Ndamase had to recreate an 80s inspired look, while Mthiyane had to prepare a South African inspired meal. Facebook fans voted Mthiyane out and advanced Ndamase to the semifinals.
The next round of Passion PlayOffs quarterfinals will see the following celebrities battle it out for a slot in the semifinals.
07 June at 10h00 – Boity Thulo (Exercise) vs Janez Vermeiren (DIY)
07 June at 18h00 – David Tlale (Fashion) vs Mobi Dixon (Music)
A key element of the knock out joust is its social media interaction, with users logging into the Facebook Live event determining the actions of each of the Passion Captains based on their reactions. Fans who generate the most interaction and engagement during these Passion PlayOffs stand a chance to win an all-expenses-paid trip to the Nedbank Cup Final Experience.