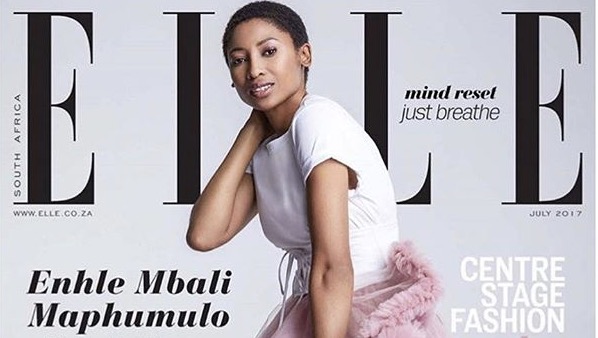 Love is what brought us here. Those are the words referenced by Ndalo Media Founder & CEO and now Publisher of ELLE magazine, Khanyi Dhlomo. Having launched Ndalo Media 10 years ago with the sole purpose of positively impacting lives, Ndalo Media is proud to officially present the first issue of ELLE magazine published under the company.
With the theme #LoveIssue, this issue is undoubtedly equipped to positively impact the ELLE reader with fashion, lifestyle and beauty features that represent the brand personality – Sexy, Stylish, Spirited and an addition to that, Substance.
On the cover, we feature actress, entrepreneur, influencer, mother and wife, Enhle Mbali Maphumulo. Maphumulo's identity as a woman who is an advocate for love, is beautifully captured in the ELLE Cover Feature where she says, "I'm teaching my sons that love isn't a weakness…. the association is weak and negative, when in fact love is about rising"
The team responsible for the #LoveIssue who also represent the official ELLE South Africa Editorial Team is comprised of:
Emilie Gambade – Editor-In-Chief
Asanda Sizani – Fashion & Beauty Director
Kelly-Anne Knox – Creative Director
Tidi Benbenisti – Managing Editor
Malibongwe Tyilo – Digital Editor
Dimeji Alara – Fashion Editor
Lauren Nicoll – Beauty Editor
The greater ELLE team is listed in the masthead of the issue.
On this issue, Dhlomo says: "We are extremely excited about our first edition of ELLE magazine as its #LoveIssue theme represents what Ndalo Media stands for – the knowledge that doing good with an attitude of love and excellence, always amounts to good business. That same knowledge has driven all our initiatives as a business and led us to where we are today – celebrating ten years of business. We hope you enjoy this issue and the many more to come. Onwards and Upwards!"
Gambade, who stays on from the previous publisher as Editor-In-Chief says, "Being on set with the team was an incredible experience of love – a powerful combo of serious enthusiasm coupled with an unlimited supply of dedication that brings to life the powerful images you see in the magazine today."
This week, Dhlomo together with Gambade and Ndalo Media's Group Sales Director, Cilla Thompson, are headed to Versailles, France where they will join the global ELLE team at the annual ELLE International Conference (EIC) – an initiative run by the ELLE International Network where the global ELLE team connects and shares strategies aimed at strengthening ELLE's position as the world's leading fashion media brand.
In this issue, we bring you the features which the ELLE reader is accustomed to and we have boosted content that relates to careers in ELLE Career, money in ELLE Money and motoring in ELLE Drive.
Other features in this issue include:
ELLE Column – A Labour of Love by Asanda Sizani. In this column, the fashion icon & Influencer shares the process she undertook when putting together the styling for the cover shoot of the issue.
ELLE Radar– We showcase the ELLE edit of this season's hottest fashion and beauty trends and in ELLE Fella, Tyilo gives his take on what it means to love your heritage in a way that enables you to love the greater world community.
ELLE Agenda – We give you a well-rounded perspective on the current topics changing the world.
ELLE Talent – In the feature From Here To Hyères, we showcase the experience of award-winning visual artist, contemporary photographer, ELLE Style Reporter winner and ELLE South Africa's Group Photographer, Themba Mbuyisa, on his experience in the South of France where he was nominated for the 32nd Hyères International Festival of Fashion and Photography.
Ndalo Media's first issue of ELLE Decoration, the August issue, hits the shelves on 31 July 2017 while Ndalo Media's new Cape Town office is set to open at the end of August 2017.
From the ELLE team to you, we hope you enjoy this Love issue and we trust that it will always encourage you to show up in excellence and love!