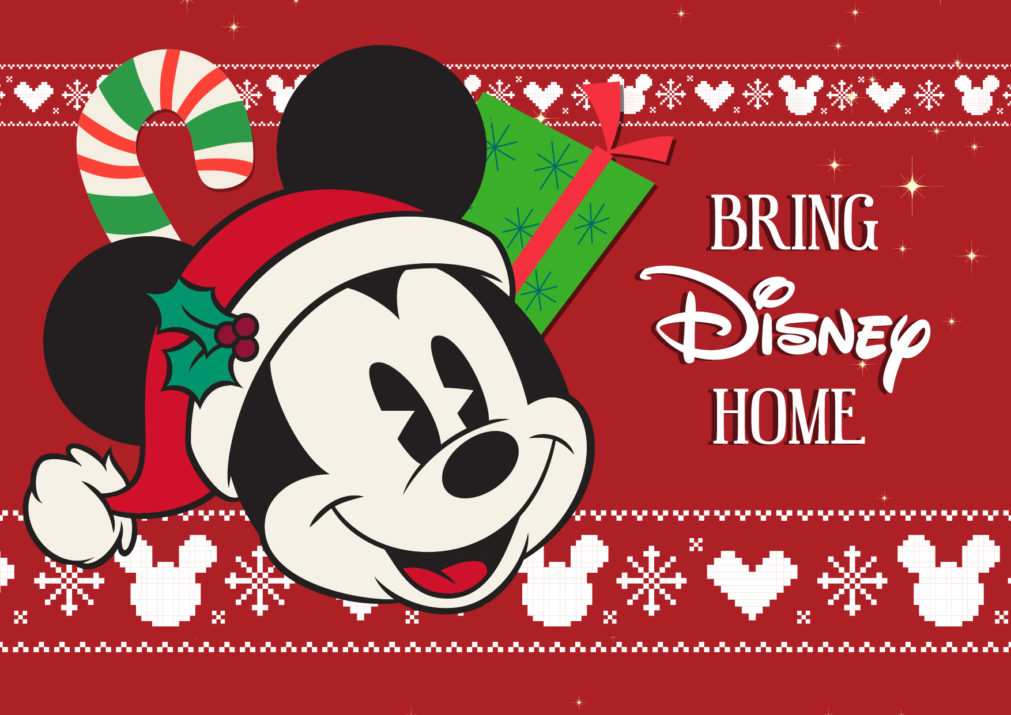 Bring home some magic and festive cheer this holiday season and treat the family to re-living Disney memories or experiencing them for the first time!
Disney's Bring Disney Home retail campaign, from 13 November – 31 December, will usher in the festive season at all major retailers. With Disney's seasonal cheer hitting stores, expect to see some brand-new Disney friends as well as some firm favorites –  from the brand new Disney Emoji range to your favourite princesses, there's toys, apparel, games, DVD's and so much more, a perfect gifting solution the whole family.
Cars 3 Cruises Home
If you enjoyed the high octane "Cars 3" in theatres this year, you'll be pleased to hear you can now take home the Disney•Pixar film on DVD or BluRay. Watch legendary racer Lightning McQueen (voice of Owen Wilson) and spirited trainer and technician Cruz Ramirez (voice of Cristela Alonzo) team up to beat the new generation of blazing-fast racers. The DVD is loaded with bonus features like the all new mini-movie starring the demolition derby legend Miss Fritter.
For the prefect stocking filler, team up the DVD with the brand-new Cars: Books & Blocks – which offers a fun illustrated story, two block puzzle characters, and a playmat. Assemble the characters as you follow along with the story, and then use the characters and playmat to create your very own adventures!
In addition, there is a myriad of classic Disney and Disney•Pixar animated films on DVD in a brand new look. At a joyful 2-for-R100 price point, this is the ideal opportunity to bring home titles such as Tangled, Big Hero 6, Cars and Finding Nemo!
Perfect Playtime Companions
Every day is an adventure with a Disney Princess doll. Find your little one's next best friend in these Disney Princess Toddler Dolls. Choose from Rapunzel, Pocahontas, Tiana, Mulan, Jasmine, Belle, Aurora, Snow White, Merida and Ariel.
Fans of Disney Channels' adventurous Princess Elena of Avalor will be pleased to know that Elena products are now available at major retailers. From an Elena of Avalor Toddler Doll to her scepter, crown, dress and shoes, it's a little girl's dream come true!
Following the success of the Disney Emoji mobile game, Disney has released plush character toys that are as cute as a button. The Disney Emoji #Swapsies is a fun, expressive plush that allows you to change the expression of your character.  Express yourself through Minnie Mouse or Belle #Swapsies with these super-squishy, mega-sized plush and swap their expressions to suit your own mood, with 20 fun expressions to choose from.
Disney Palace Pets are adorable figures that will ensure hours of fun as children can "crown" their royal pets with the removable tiaras and groom their tails with the included styling brush. The Disney Princess characters have always loved animals and now, just like your favourite princess, you can play with, nurture, style and love their pets too.
Make Storytime Loads of Fun!
Take bedtime to the next level with the Disney Princess Happy Tin – join Cinderella, Ariel, Belle, Rapunzel, and the rest of the Disney Princesses for some royally good fun with this amazing collectable tin with two fairy-tale activity books, an enchanting colouring book, as well as a double-sided poster for you to colour, 50 fabulous stickers and 4 felt-tips.
The Stuck on Stories range uses suction cup characters to tell your favourite stories from Beauty and the Beast to Marvel Spiderman.  Read the stories and complete the games. Then, have fun playing the board game with your friends!
 "Relaxing in the summer sun, just lettin' off steam . . ."
Summer is the perfect time to get outdoors and enjoy the sun, the sea and maybe some night-time star gazing. Kids will love using their Disney themed outdoor furniture, from the Frozen garden tent to the Cars sleeping bag and oh-so-adorable Winnie the Pooh camp chair.
Disney x Pandora come to South Africa
Something for the older members of the family; Disney and jewellery manufacturer Pandora have joined forces for an exclusive Disney inspired collection. Pandora asks you to embrace the fun, the joy and the happily ever after with their specially crafted charms and jewellery pieces in classic Disney character designs that include Minnie and Mickey charms, Princess dresses and even Cinderella's pumpkin coach. The hand-finished Pandora Disney Jewellery Collection is available at Pandora retailers nationwide.
So visit leading retailers nationwide this festive season and Bring Disney Home!
WIN WIN WIN WIN WIN WIN
Together with Disney we have a few goodies to give-away
1 x Princess Tiana Toddler Doll
1 x Disney Emoji #Chatties
Email me on hypresslive@gmail.com to win win win.