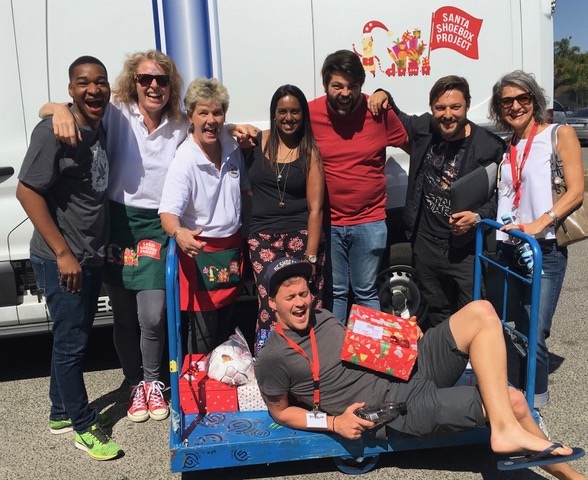 5FM's higher purpose is to bring together youthful South Africans through the power of music. In 2017, the station found two new and engaging ways of uniting people, playing their part in empowering communities and supporting the youth of South Africa.
Each year, as part of the station's mentorship programme, 5FM invites students from various learning organisations, including Boston Media House, for hands-on, practical insights into the world of radio. It's a program instituted and actively supported by Station Manager Justine Cullinan and driven by the full 5FM team (or the 5FM Family as Cullinan likes to call it).
In June this year students from Boston Media House's campuses participated in an 80-hour work-based experiential learning programme at the station. Boston Media House graciously recognised the partnership with 5FM as one of the stand-out, special ones for 2017 as it played host to 12 students over two weeks.
Reiterating the station's higher purpose, Station Manager Justine Cullinan says, "One of the ways in which we act as a nation building and socially cohesive brand is by engaging in direct mentoring activities to build youthful media professionals of tomorrow. Not to mention the fact that sometimes you need to build your community one at a time."
"Several of our current producers, operations team members and presenters were once students of Boston City Campus. Through the 5FM mentorship program we can grow the size and scope of the 5FM family," she added.
5FM will continue this partnership with Boston Media House as well as other learning institutes as the station continues to support education for the youth.
In October 5FM became involved in the Santa's Shoebox Project, which was driven by The Roger Goode Show (presenters Roger Goode, Sureshnie Rider, Ms Cosmo and Robbie Kruse). 5FM was tasked with assisting the Project in reaching their 2017 target of delivering 110 000 gifts to underprivileged children this Christmas.
With enormous team effort and rallying fellow South Africans to support this initiative, the whole 5FM Family got involved in helping The Santa Shoebox Project reach and exceed their 2017 target of 110 000 shoeboxes. In total 110 414 Santa Shoeboxes were distributed to their specific recipients around South Africa and Namibia in 2017 with the assistance of the 5FMcampaign.
"Having earned the reputation of South Africa's most loved children's charity over the past 10 years also meant we were, inaccurately, seen by many as not needing much help, but we were desperate," says Irene Pieters, CEO of The Santa Shoebox Foundation."5FM came to the rescue and as a result we were able, even in this challenging economic climate, to up our yearly target by 10 % and reach it! The entire team at 5FM and, in particular, The Roger Goode Show, immersed themselves in the project, made it fun and engaging and took their whole audience along." Irene says the response from the public was incredible and evident in statistics that broke many records.
5FM's Station Manager Justine Cullinan added, "We are a family at 5FM and when a family comes together it can do powerful things. We saw this opportunity to assist the Santa Shoebox Project in bringing joy into the lives of so many children this Christmas in such a fun and simple way. We knew the 5FM community would respond and we are so proud to acknowledge how generous our 5FM community has been."
THE SANTA'S SHOEBOX PROJECT BY NUMBERS:
· In less than 3 weeks Santa's Shoebox had gone from ±6000 boxes behind previous year's daily total to ±6000 ahead
· Average daily pledges increased from 734 to 1328
· The target for 2017 was upped from the previous 5 years' – from 100 000 to 110 000 – and was reached by 9 November – well before the last drop-offs started.
· Not only did the campaign stimulate pledging, but also the actual goal – to get everyone to drop their pledged box off. An interview with The Roger Goode Show on Friday, 3 November spiked the Johannesburg Flagship drop-offs and the last update interview on Friday 10 November spiked Cape Town Flagship drop-offs
· The days that Roger himself got involved in packing a box for a child the spike in numbers was the highest – more than 1500
· In total 110 414 Santa Shoeboxes were distributed to their specific recipients around South Africa and Namibia in 2017.