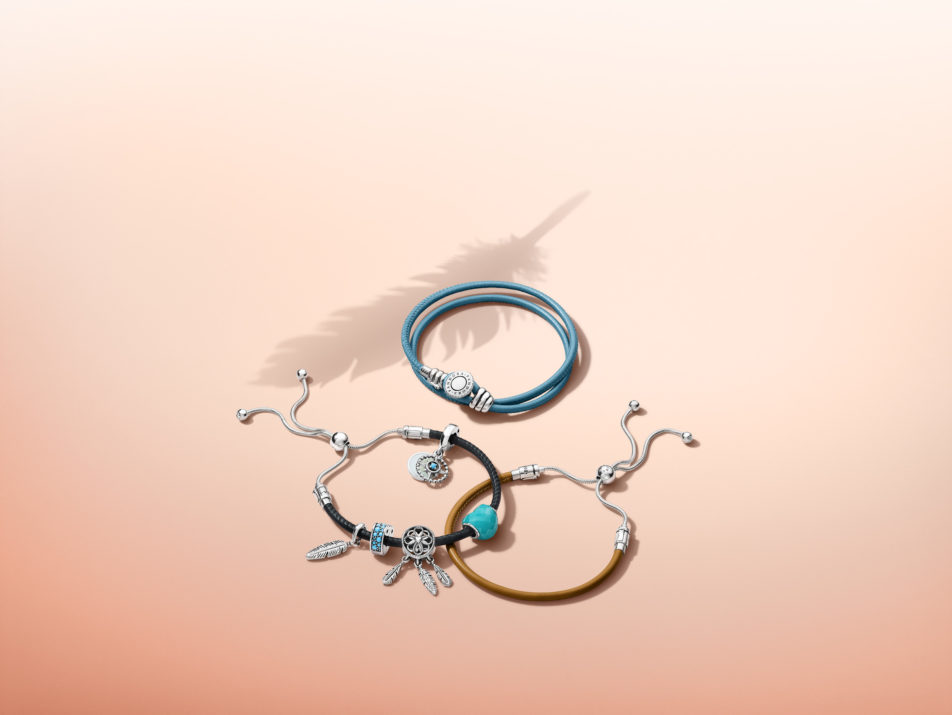 There's a free-spirited feeling in the air. Look deeper into your style. Bring it alive with colours and textures on new hand-finished jewellery that moves with your positivity.
This new collection of sterling silver jewellery shimmers to the beat of your energy and expresses vibrancy and optimism. The designs are bohemian in spirit but utterly versatile in reality.
Striking just the right balance between casual, fun, and a little edgy, leather bracelets are a summer staple that you can pull off whatever your style.
A double-wrap bracelet makes its debut this season. It pops with new sterling silver fastenings and can be customised with other charms that are easy to add.
The tassel is a dreamy look that is currently sashaying on catwalks; a luxe accessory that adds eye-catching movement to stylings. Combine the two to get an exciting mix, especially pairing the hot colours of tan and coral-tinted-with-orange together and with other statement pieces.
Amulets and talismans with the finest details are personal mascots of love, hope and protection.
Attract future happiness with the dreamcatcher charm and feel light-hearted with feather statement earrings, sparkling with stones in one of the season's coolest colours, turquoise.
Anchor your look with a lucky-trio statement ring, then mix and match symbols and colours to create a vivid mood.
The season is playful and electrifying. To add more excitement, PANDORA is giving one lucky customer and a friend, a chance to win a VIP Experience to Vodacom Durban July – Amstel BoomTown.
To enter, buy any PANDORA piece; keep your proof of purchase; create a flat lay & post it to your Instagram, Facebook or Twitter using #FestivalVibes and #PANDORASouthAfrica.
More details and T's&C's on PANDORA's Facebook page:
https://www.facebook.com/PandoraSouthAfrica/
Explore more.
#FestivalVibes
#PANDORASouthAfrica