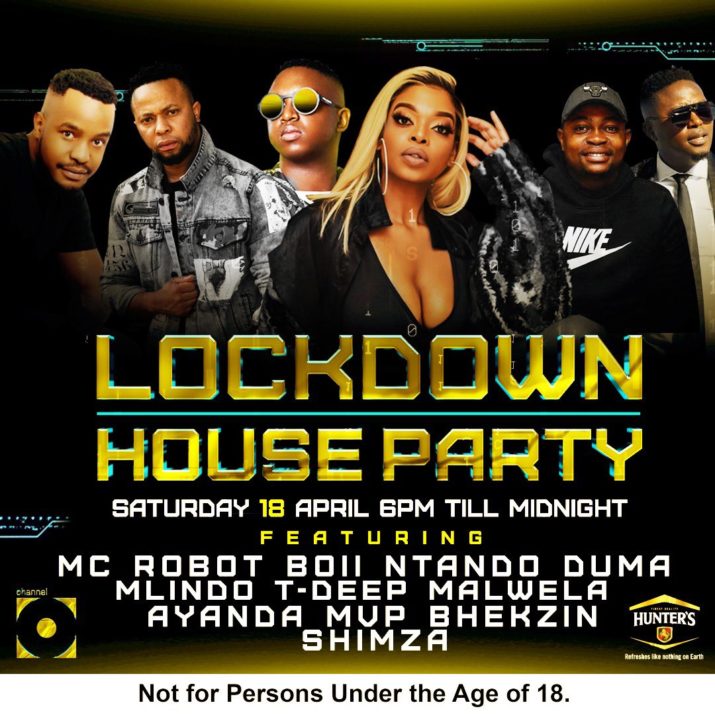 The people of Mzansi will get to party in isolation all over again this weekend, with Channel O's (DStv Channel 322) continuing to bring the popular #LockdownHouseParty to screens for viewers to enjoy.
In partnership with Hunter's Cider and Hollywood Bets, Channel O once again brings you a non-stop stay-at-home celebration.
Returning to keep the show on the road will be DJs pH and Shimza, who will be hosting pre-recorded sets from some of your favourite DJs, carefully selected well in advance.
And boy, is everyone going to be set on fire by the incredible line-up for this weekend. On Friday, you can look forward to the mind-blowing sounds of Lulo Café, Doowap, Thabi Thabz, Zan D, Mobi and Kyotic. On Saturday it will be the turn of Mlindos, T-Deep, Malwela, Bhekzin Terris, Ayanda MVP and Shimza.
Since the beginning of lockdown, Channel O has changed the game each weekend by giving viewers the chance to party in the safety of their own homes – and everyone has loved it. Every single DJ who has played has trended on Twitter, with the show averaging 120 000 tweets per episode.
To put things into perspective, not even Uzalo and The Queen get those kind of numbers!
What's most important is that the #LockdownHouseParty has been bringing families together in these difficult times, and as these hilarious posts on Twitter show, there's no age restriction.
The show will no doubt be trending once again, as this weekend's vibes are going to be better than ever. It's clearly going to be the one place where it's at, so stay safe, stay home and party on with #LockdownHouseParty.Ends