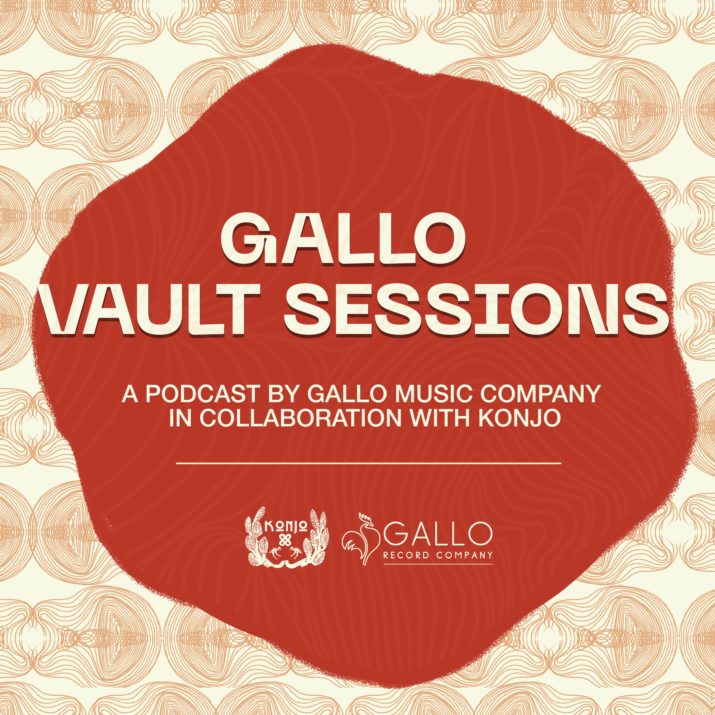 A new six-part podcast series, Gallo Vault Sessions explores South Africa's rich and complex musical history through the prism of the longest running independent recording label in Africa, Gallo Music, which houses the largest collection of African Heritage music masters in the world.
Home to some of Africa's greatest music legends including Miriam Makeba, Ladysmith Black Mambazo, Lucky Dube, Oliver Mtukudzi, Thandiswa Mazwai, Sipho "Hotstix" Mabuse, and others; Gallo Music commissioned the podcast series as part of it 95th anniversary.
Sipho "Hotstix" Mabuse
Spanning nine decades, from the 1930s to present day South Africa, the 6-part podcast series produced by culture agency KONJO explores the back stories and overlooked tapes from the Gallo Music Vault, reflecting on the ways music shapes culture, and how our culture has been shaped by music. Accompanying each episode is a specially commissioned DJ mix inspired by the episode's focus.
Released monthly over the next six months and featuring interviews with artists, label executives, radio veterans and thought leaders, episode one launches on 31 March on all podcast and audio streaming platforms. The launch episode provides an overview of the founding story of one of the greatest music companies in the world and introduces all the moments to follow in the series. A curated mix by Paul WaxOn (@waxonsa) accompanies episode one.
Gallo Vault Sessions doesn't shy away from the difficult questions the podcast surfaces as it explores the dance between socio politics and the cultural moments in South Africa's history – from radio censorship and race, to the cultural project of whiteness and Afrikanerdom; from the curatorial power and cultural influence of producers and talent scouts, to beyond the cultural boycott and the global explosion of South African music; right up to the new voices that emerge once the euphoria of independence settles.
"This is probably one of the most important explorations of South African music of recent times," commented Gallo Music MD Simu Mukuna. "We wanted to bring the stories behind Gallo's 95-year legacy as South Africa's biggest and largest independent record company to life, but as we got deeper into it, it increasingly became clear that what we were doing was bringing South Africa's musical history to life."
Adds series producer and researcher Zara Julius "Music is almost one of the central pillars of how we engage with one another in South Africa and this series highlights how South Africa's political history has affected the trajectory of music in a way that I don't think it has elsewhere".
Zara Julius
Celebrating the music is central to the Gallo Vault Sessions series with specially commissioned 60-minute DJ mixes accompanying each episode. Featuring some of South Africa's most sought-after original recordings, many of which were vinyl rare cuts, compiled by some of the most discerning selectors in the scene including Paul WaxOn and Vusi Hlatywayo and Naledi Chai /of Fly Machine Sessions and Abraham Mennen.
The series is narrated by Kineta Kunutu, and researched, produced and written by artist, researcher and DJ Zara Julius at KONJO.  Gallo Vault Sessions is presented by Gallo Music in collaboration with KONJO, in association with The Sowetan. Episode one is published on 31st of March and available on select digital streaming platforms with a new episode launched the last Thursday of the month, over the next six months.
To subscribe and listen to the Gallo Vault Session podcasts and playlist please click here:   https://linktr.ee/gallovaultsessions
#GalloVaultSessions
EPISODE 1 (31 March '22) An introduction to Gallo Record co.
An overview of the founding story of one of the greatest music company's in the world, on South African soil. Interviews: Rob Allingham, Michael Swaratle, Antos Stella, Ivor Haarburger, Sipho Sithole
EPISODE 2 (27 April '22)
Radio, Race & Genre in South Africa
Interviews: Shado Twala, Sipho Hotstix Mabuse, Sipho Sithole, Rob Allingham, Antos Stella, Bra Mike Swaratle, & Ivor Haarburger, Accompanying DJ mix by Vusi Hlatywayo of Fly Machine Sessions
EPISODE 3 (25TH MAY '22)
The Cultural Project of Whiteness & Afrikanerdom
EPISODE 4 (29TH JUNE '22)
Talent Scouts & In-House Producers
EPISODE 5 (27TH JULY '22)
South Africa Abroad / Beyond the Cultural Boycott
EPISODE 6 (24TH AUGUST '22)
The transition years: 90s and 2000s club scenes