ESSIE'S Global Color Designer Rebecca Minkoff, presented her 70's rock'n chic collection at Lincoln Center where celebrity manicurist Michelle Saunders designed a chevron edgy nail art featuring Mademoiselle,  Berry Naughty and Midnight Cami.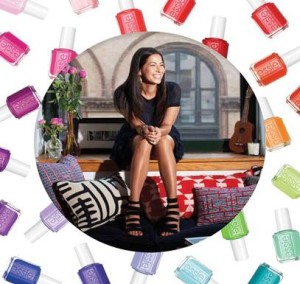 GET THE LOOK
Apply one coat of first base base coat followed by a coat of mademoiselle.                                                                                                               Create the edgy chevron by painting one reverse V with berry
naughty in the middle of the nail and then one reverse V in midnight cami at the edge of the nail.
Finish with good to go top coat.