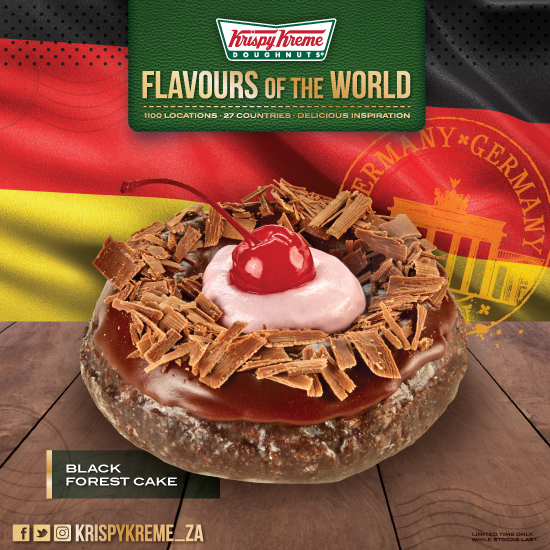 What if you could enjoy an international culinary experience without actually having to leave the country?
Krispy Kreme South Africa are introducing an exciting, tasty travel experience with the introduction of the all new 'Flavours of the World' doughnut and beverage range. Inspired by the deep, luxurious flavours of iconic desserts from around the world, these doughnuts will take your taste buds on an adventure.
Escape on a romantic adventure to Paris with the Crème Brule Doughnut, a vanilla custard filled shell topped with caramelized sugar. Travel to Germany with Black Forest Cake; a glazed chocolate cake doughnut, dipped in chocolate icing, dressed with milk chocolate shavings, filled with dark cherry flavoured Kreme and decorated with a maraschino cherry. Discover the world of celebrities, sweetness and indulgence with the Peanut Butter and Jelly doughnut inspired by the United States, a peanut butter iced shell filled with strawberry pie filling, dressed with peanut butter brittle and drizzled with chocolate icing.
To add to this wonderful adventure, Krispy Kreme South Africa bring the joy of Germany and France to you with the introduction of two out of this world beverages, which include; a Black Forest Hot Chocolate and Black Forest Kremey Chiller, and a Crème Brule Syrup option on any beverage. These decadent delights inspired by famous international culinary treats are sure to keep Krispy Kreme fans smiling.
The doughnuts are available for a limited time only from the 15th of August to the 18th of September. "We introduce new ranges to the Krispy Kreme collection so that we keep abreast with the times and keep the excitement around the brand alive, with a society of people getting distracted by new and exciting developments, Krispy Kreme South Africa aims to keep on top of the trends.", says Krispy Kreme South Africa CEO Gerry Thomas.