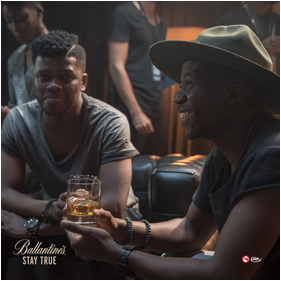 BALLANTINE'S SCOTCH WHISKY AND AWARD-WINNING MUSIC DUO BLACK MOTION STAY TRUE THROUGH EXCITING NEW PARTNERSHIP
Staying true to what you believe in is not easy. It means going against the grain, forging your own path, ignoring criticism. It means trying something that no one else has done before. It means believing in yourself, even when others don't.
For Ballantine's Scotch Whisky, staying true has meant that is has become one of the world's most awarded and widely enjoyed whiskies. For Thabo Mabogwane and Bongani Mohosana, it has meant success as the award-winning music duo, Black Motion.
Staying true also means partnering with those who share your values – and Ballantine's is excited to announce a new partnership with Black Motion that will bring to life their shared values of authenticity, self-belief and the pursuit of uncompromising success.
"Ballantine's is about authenticity, flair, self-belief and inspiring people to have the conviction to stay true," says Daryl Dixon, Ballantine's SA Brand Manager. "We saw these same traits in Thabo and Bongani through their music and how they achieve success. They have worked incredibly hard to get where they are, and have stayed true to their sound all the way. Their values fit perfectly with Ballantine's ethos of uncovering, showcasing and supporting authentic musical talent."
Ballantine's credentials as the number 1 Scotch whisky in Europe and the world's number 2 Scotch whisky by volume having long been established, and reaffirmed with every serve. The brand's music credentials have been growing year on year. Ballantine's has been staying true to its support of local music and exceptional talent through its previous partnership with world-renowned artist Black Coffee, and its hosting of Boiler Room 'Stay True South Africa' in March 2015 and again this year. International DJ's Henrik Schwarz, Move D, Fred P performed, supported by Julian Gomes, Kid Fonque, Jazzuelle and Fosta.
"The music leads first. It's not about celebrity," says Thabo of Black Motion. "When the sound changes, we don't follow. We keep on doing our music our way and pushing it. We want to be taken seriously as artists, and staying true to our sound and our art is key to that."
The duo is known for creating unusual sounds in their music and on stage they mix traditional instruments like African and Latin drums with modern DJ decks. Most recently Black Motion have been nominated for a Wawela Music Awards (Best Duo or Group) and aSouth African of the Year (SATY) Award (Music Artist of the Year).
This partnership will see a year-long collaboration between Ballantine's and Black Motion that kicks off with a powerful campaign this September across television, radio, print and online. Look forward to a series of events, incredible music, a new album release, collaborations and, of course, exceptional whisky. To see an exclusive teaser of what's coming, watch this video on Ballantine's Facebook page: https://www.facebook.com/BallantinesSouthAfrica/videos/668053680020285/