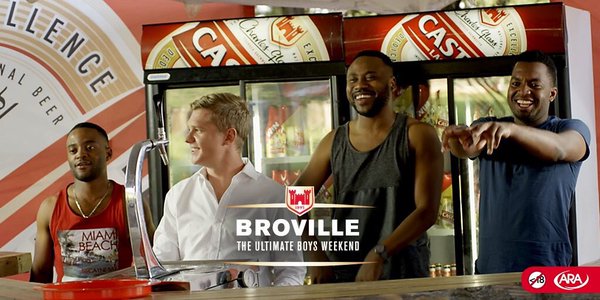 The long awaited Broville festival with Castle Lager will finally come alive on this Saturday. The festivities will see the brand host scores of beer lovers and their mates, to a weekend of celebrating friendships and forming new ones along the way.
Some of Mzansi's major acts will be on stage to entertain partygoers and will take things to the next level. These will include the likes of Big Nuz, Nasty C, Riky Rick, Wolf Pack, Reason, Major League, Josh, PH, Speedsta and Timo.
"Castle Lager has always been about friendship and getting together to share the things that South Africans love most especially Sport, a good braai, music and shooting the breeze with friends. Broville was developed to bring to life the full Castle Lager experience for our consumers," said Shawn Katz, Castle Lager Marketing Communications Manager.
"We have had a long standing relationship with some of the guys on the Broville line up and we look forward to getting together for great performances in celebration of friendships. This is expected to be an unforgettable weekend," said Katz.
In addition to the power line-up planned for the event, revelers will get to interact with numerous Castle Lager brand ambassadors and get to taste the brand's latest product innovation, Castle Fresh Tank beer.
This innovation is a first on the African continent and, although exclusively available at only 23 carefully selected outlets around the country, will be brought in to Broville on a specialized truck directly from the brewery. It is the unpasteurized version of the original Castle Lager recipe and has a shelf life of only 7 days to protect its freshness.
'This really is beer at its freshest and best – an experience previously only available to our Brewmasters', concluded Katz.
Broville will be held at Johannesburg's Casalinga Farm and will host over 1000 consumers and celebrities to a night of unstoppable celebrations. Amongst those expected to attend is a host of sports stars, both past and present, with whom Castle Lager has formed solid relationships through the brand's sponsorship of Bafana Bafana, the Springboks and the Proteas over the years. These include the likes of Damian De Allende, Lance Klusner, Bakkies Botha, Aaron Mokoena, Mark Williams, Herschelle Gibbs and Itumeleng Khune to name but a few.
To be part of the Broville event, adult consumers can still win tickets on YFM shows and on Castle Lager's social media pages where 10 double tickets are still up for grabs.
IT ALL COMES TOGETHER WITH A CASTLE. INQABA!!!