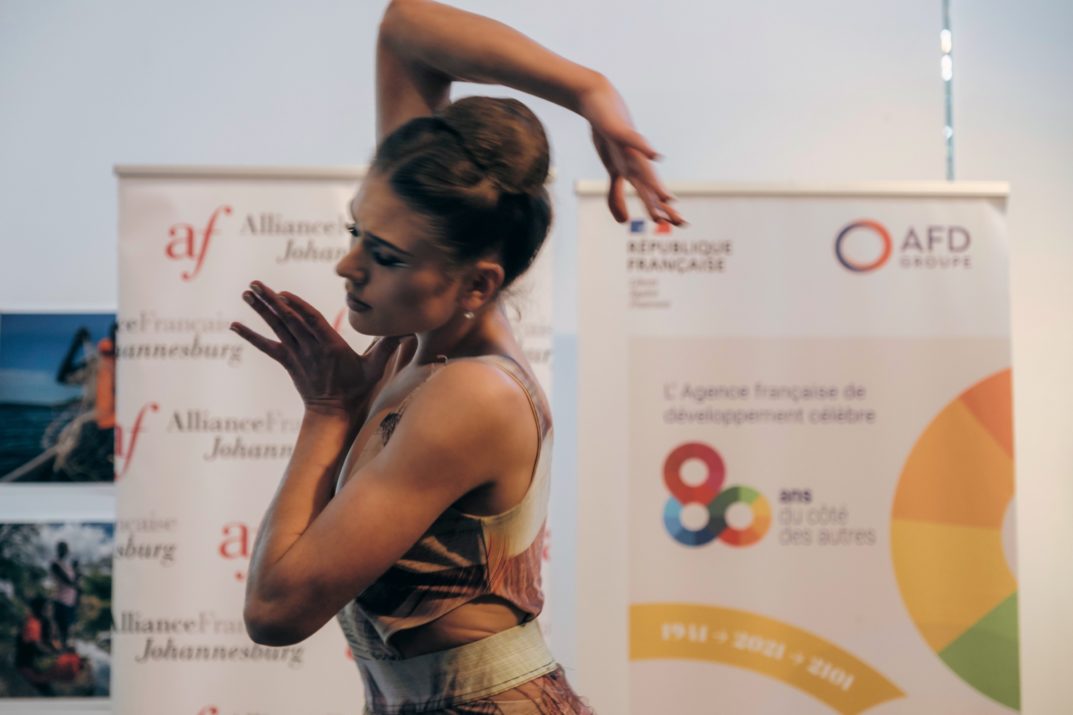 Art has a key role to play in supporting and promoting conservation, particularly in Southern Africa. This was the core premise of a thought-provoking event called "Art and Conservation – a Southern African Dialogue" held at the Alliance Française in Johannesburg on 15 June.
The event showcased a photographic exhibition and the work of contemporary South African artist, Hedwig Barry.
This event, hosted in a hybrid format, allowed participation from around the world as well as face-to-face. Attendees, who included representatives from some of the country's top conservation bodies, international organisations and funders as well as artists and creatives, agreed that this inaugural event provided an exciting opportunity to explore an important topic – how the expression of emotion could play an important role in igniting a conversation around the protection of the environment.
The Mzansi Ballet performed extracts from its new ballet, the Golden Rhino of Mapungubwe, which has evolved through the shared talents of some of the country's top musicians, choreographers, set and costume designers as well as dancers. Dr Ndukuyakhe Ndlovu, Manager: Archaeology at SANParks shared the rich archeological finds and legacy of Mapungubwe as a creative African city-state. The Mapungubwe National Park hosts a permanent exhibition of the city-state.
"The story is important because it brings together ballet and music as well as conservation. We need to make people aware of the plight of the rhino as much as we are making them aware of the plight of the arts. But we are also relaying the importance of bringing together art, conservation and business. They don't have to be mutually exclusive. They need to work together to achieve the desired outcomes," said Dirk Badenhorst, CEO and Director of the SA International Ballet Competition and Mzansi Ballet.
A discussion with Tiphaine de Mombynes, head of the Métis Fund at Agence Française de Développement (AFD) promoting development through art; followed with a view to mobilize Metis in South Africa. Examples of existing projects presented included the work of Mexican artist Priscilla Martinez, whose painting of murals raise awareness and mobilize communities around the need for the protection of biodiversity in the region, and the work of Mauritian musician and artist, Kan Chan Kin, who uses waste plastic materials to raise awareness about pollution.
The Metis Fund, launched by AFD in 2021, promotes a better integration of the arts and culture in official development assistance. Metis brings together stakeholders who are committed to this ideal and supports local artistic initiatives related to development projects funded by AFD through painting, writing, dance and music.
Introducing artist Hedwig Barry, Dr Anthea Buys, owner and director of FORMS Gallery, relayed how Barry, through her residency programme in the iconic private wildlife reserve in the Kalahari, is working at the intersection of biodiversity and conservation. For a number of years, researchers at the centre have invited artists to join in the research process. Barry undertook to investigate the soil and ground as the theme of her artistic research.
"She is also engaged in an art education initiative with a local special needs school in the area. She is using the theme of conservation, and the theme of the soil particularly, as an entry point into thinking about how art can be used in their everyday lives to cope with normal things. Art education is a critical part of this process for Hedwig," said Dr Buys.
Julia Levin, CEO of Conservation South Africa (CSA) and one of the emerging Young Photographers, Rifumo Mathebula, introduced the organisation's Wildshots Photographers Programme, which forms part of Conservation SA's Youth Employment Services programme. The programme teaches young people from disadvantaged communities in surrounding game reserves about photography.
"We believe that Africa needs nature and we also believe that nature needs Africa. We have some of the last remaining expanses of wilderness in the world and a long history of people who have lived in co-existence with nature. We are trying to unpack how this looks in the modern world. Our vision is of an Africa where growth and development are catalysed through nature, a future where nature and development work alongside each other and are not competing for the limelight and resources," said Levin.
"Emotions, movements and visual depictions have the power to convey a sensitive first-hand experience of ecological issues and drive global action," said Ghislain Rieb, head of the Infrastructure and Biodiversity team at AFD in South Africa, one of the sponsors.
"Biodiversity faces many challenges. It is up to us as a collective to find ways to protect our environment and collaborate with each other," said Rieb.
The event will be one of many more AFD events linking conservation and art to follow.