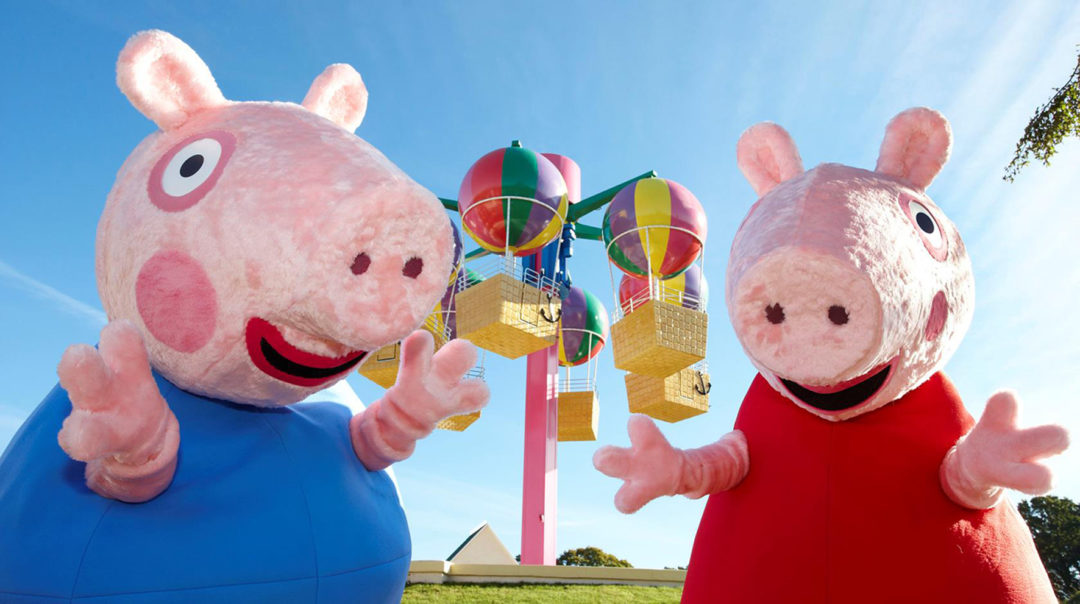 With just weeks to go, excitement is mounting and fans around the country are counting the sleeps until they see Peppa Pig and George Pig together with all their special friends including favourites Suzy Sheep, Danny Dog and Pedro Pony embark on their fantastical adventure when the much-anticipated stage show, "Peppa Pig Live in South Africa" in partnership with black opens later this month at Emperor's Palace, Johannesburg from 29 March to 2 April, followed by shows at Cape Town's International Convention Centre from 6 to 8 April before heading to The Playhouse Company, Durban from 20 to 22 April 2018.
Owing to the popularity of Peppa Pig and overwhelming public demand for tickets, additional family discount packages have been released with seats available from just R149 when booking four or more tickets at specific shows. The ever-popular VIP Meet & Greet packages are nearly sold out at weekend performances. Those wanting to meet Peppa and experience the special VIP treatment are encouraged to consider off-peak shows for best possible availability.
General public ticket sales and family packages as well as exclusive VIP packages are available at Computicket. The second leg of the tour includes two performances at the South African State Theatre on Youth Day, Saturday, 16 June and Sunday, 17 June 2018 and a stopover in Port Elizabeth at the Opera House from 23 to 24 June 2018.
In this brand new adventure – Polly Parrot and Mr Dinosaur have vanished – leading Peppa, George, Mummy & Daddy Pig to embark on an incredible journey to find the missing duo. As always – Peppa's friends are on hand to help in the hunt.
Peppa Pig Live in South Africa will have fans laughing, cheering and dancing – just like Peppa! This fully immersive musical production, featuring all your favourite songs along with incredible life-sized puppets and beautifully costumed characters, brings Peppa Pig to life like never before.
Look out for those muddy puddles, it's time to see Peppa, George, and friends live on stage for the first time ever! For more information about the show, visit www.peppapiglive.co.za or stay in touch via social media. Make it a big day out, don't miss Peppa Pig LIVE! #PeppaPigLiveSA
_________________________________________________________________________
TOUR INFORMATION 2018
JOHANNESBURG Emperors Palace 29 March – 02 April 2018
CAPE TOWN International Convention Centre 06 – 08 April 2018
DURBAN Playhouse Theatre 20 – 22 April 2018
PRETORIA SA State Theatre 16 – 17 June 2018
PORT ELIZABETH PE Opera House 23 – 24 June 2018
SHOWTIMES
JHB Thurs 29th Mar – Mon 2nd April 10h00, 12h30 daily
CPT Fri 6th April: 15h00
Sat 7th April & Sun 8th April: 10h00, 12h30 daily
DBN Fri 20th April – Sun 22nd April 10h00, 12h30 daily
PTA Sat 16th June – Sun 17th June 10h00, 12h30 daily
PE Sat 23rd June – Sun 24th June 10h00, 12h30 daily
SHOW DURATION
80 Minutes including 20-minute intermission
TICKET PRICES PER PERSON
CAT A R399; CAT B R349; CAT C R299; CAT D R199
Each person, irrespective of age (including babes in arms) must have a purchased show ticket
VIP MEET & GREET PACKAGE R799 PER PERSON LIMITED AVAILABILITY
One premium seat in the first 10 rows of the theatre
Exclusive access to the Peppa Pig Party after the show
Meet & greet photo opportunity with Peppa
Exclusive Peppa Pig Live gift
On-site party concierge
FAMILY DISCOUNTS
Special discount on family packages of 4 or more tickets
CAT A R369 per ticket – saving of R30 per ticket
CAT B R319 per ticket – saving of R30 per ticket
CAT C R279 per ticket – saving of R20 per ticket
BOOKINGS
Computicket by calling 0861 915 8000, visit www.computicket.com
or visit your nearest Computicket outlet.